Had enough of Provence? Bored of the Ballearics? Over-Greeced?
Get your mojo back by joining Alexandra Tolstoy on a riding holiday in Kyrgyzstan.
Alexandra, how long have you been organising riding holidays in Kyrgyzstan?
I started in 2003. I'd ridden through the country in 1999 when I was part of a four-girl expedition retracing the Silk Road by horse and camel. We rode all the way from Turkmenistan, through Uzbekistan and Kyrgyzstan, to the ancient Silk Road capital of Xian in China.

Why did you pick Kyrgyzstan?
Of all those unfamiliar countries, Kyrgyzstan made the greatest impact on me. Nestled in the Tien Shan Mountains, it is an oasis of extraordinary alpine beauty amongst its more arid neighbours.
We rode through green valleys bursting with tulips, hollyhocks, lupins – it was from here that Victorian botanists and players of the Great Game brought back many of the specimens that are so beloved in British gardens today. Some days we crossed snowy mountain passes, picking our way up rocky shepherds' paths to emerge on to peaks, with vast views, and huge eagles often circling beneath us. The beauty was like nothing I'd ever seen before and I found the scale of the landscapes so uplifting and liberating.
The Kyrgyz are a nomadic people, still to this day leaving their villages or small towns to spend the summers in yurts with their animals in the jailoo, or alpine pastures. Because of this, it is a country wonderfully suited to riding – everybody travels by horse and every bit of the landscape is open for these adventures.
The 6-day ride takes place in Sary Chelek Reserve in the Tien Shan Mountains of Kyrgyzstan. Translated as 'golden hollow', Sary Chelek is considered a charmed land, home to seven mountain lakes, meadows of the most exquisite wildflowers and the largest walnut forest in the world.


You say it's not trekking, but proper riding. Could beginners do it, or is riding experience essential?
You do need to be able to walk, trot and canter to a basic level. There are wonderful opportunities to canter through the open valleys and you have to feel confident scaling mountain passes.
But having said that, the horses are unbelievably well-behaved. I employ up to eight guides on horseback for a group – I have known my head guide for over twenty years now – and they hand pick the horses from friends or neighbours, then allocate them individually to the clients according to ability.
The guides are extremely responsible and know the paths inside out and are always there to lead another horse if someone doesn't feel comfortable – last year I took nine children riding (including my own three) and most of them were led a lot of the way!

How many people do you have in the group?
I take a maximum of twelve and a minimum of eight, although private trips can also be commissioned.

Is it camping or glamping?
It's camping – we move camp each night, which is what makes my trips unique. I plan a seven day itinerary and a huge, ex-Soviet Army back-up truck with a team of helpers goes ahead to set up the camp each day.
We use British three-men tents (used for a maximum of two people), a mess tent for eating in if it rains, and small tents for showers and long-drop loos.
I like to make the experience as comfortable as possible, so we have tables and chairs, beautiful local china and tablecloths.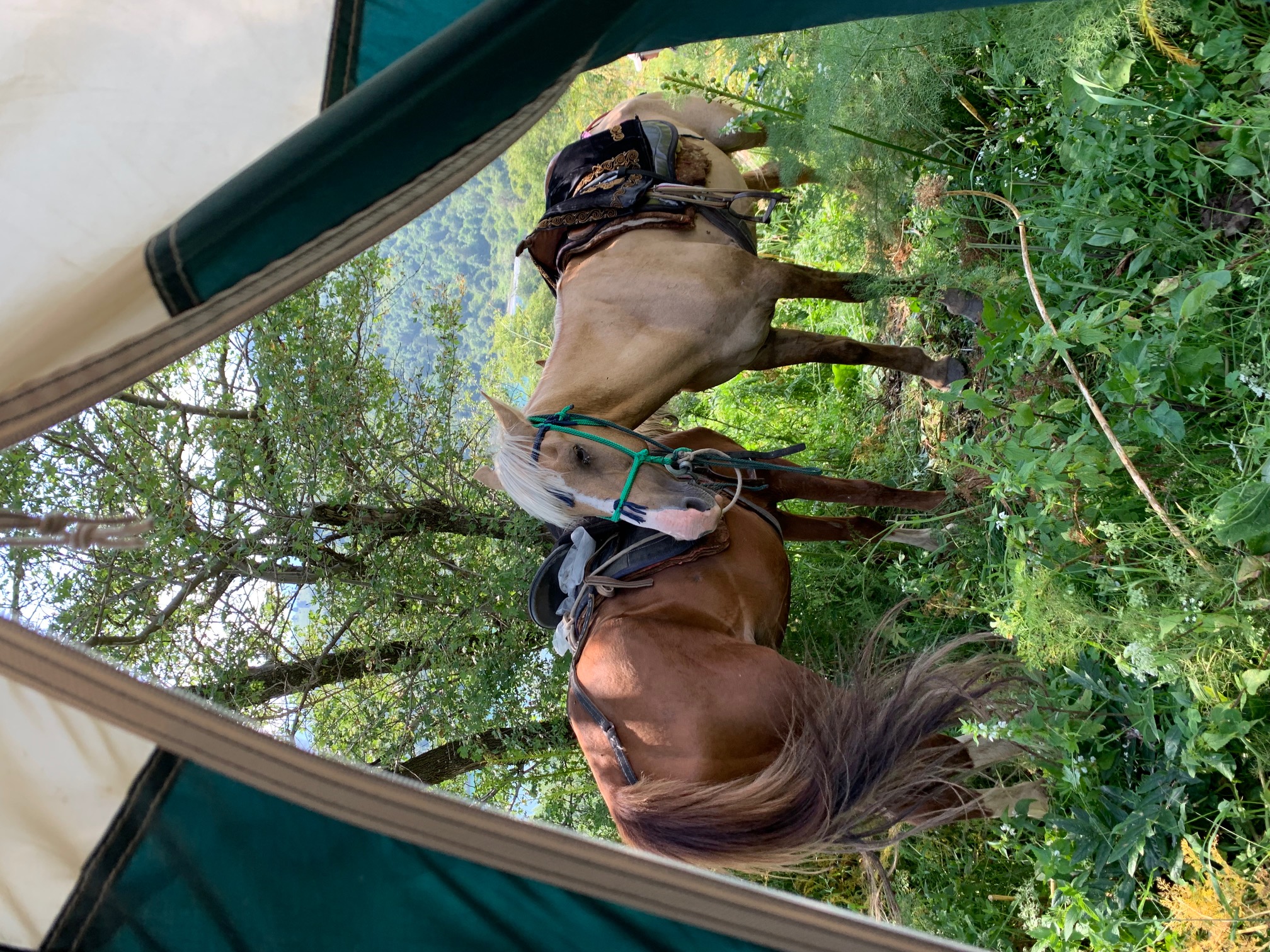 In June when you run your tour, what are the high and low temperatures?
I have chosen a national park called Sary Chelek for my June tour. It is considered a gem destination even for the Kyrgyz because of its seven lakes, extraordinary plethora of flowers and truly stunning alpine landscapes. In the day it can range between 10C and 25C, not dropping below 8C at night - most days tend to be hot and sunny but there is usually one rainy day in the trip - that is why the landscape is so verdant!

What's the food like?
Delicious! I take two local cooks in the back-up team who make every meal by hand – a fabulous fusion of Russian and Kyrgyz cooking that includes a lot of vegetables, as well as meat and dairy products. There are soups, little dumplings, plov (pilaf), pancakes etc for supper while lunch is a pack lunch, carried by the guides in saddle bags. We take local beer and buy a lot of fresh milk products from shepherds en route.

Do you ride, eat and sleep alongside your party?
Yes – I lead one trip in June when I am every step of the way with my clients – there's no opportunity not to as the route is remote and often only accessible by horse or a four-wheel truck! There is a second trip in June which is run by my fantastic guide who speaks English and has led many of these trips before.

Are other activities included too?
The trips starts in the ancient Central Asian city of Osh, an incredibly atmospheric city with a teeming bazaar that has changed little since the trading times of merchants on the Silk Road. We visit the bazaar, as well as the principal sights of the city and relax in a small hotel with a swimming pool, adapting to the time difference.
The trip finishes in Bishkek, a charming timewarp of Soviet times, where we enjoy time at the bazaar and dinner in a local restaurant.
During the trip we swim in the lakes and rivers, which are warm enough at this time of year, as well as watch an exciting game of goat polo which uses the body of a dead goat instead of a ball! Played on a spectacular open valley, it is a sight that could herald from hundreds of years ago. The winning team gets to eat it roasted on a campfire that evening!
When is the next trip?
June 2021!
10-day itinerary organised by Alexandra with Ampersand Travel for June 2021

How much does it cost per head?
$4,680 including everything - hotels, internal travel, horses, guides, tents etc - except flights and visas (no visas needed for UK and EU nationals).

Anything else people should know?
The trips are run in conjunction with Ampersand Travel, giving the clients all the back-up of an accredited travel agent.
If you are someone with a sense of adventure who wants an experience that will make you laugh, gasp, cry and shake your head in wonder, you need to get off the beaches of the Med and experience Kyrgyzstan. You'll remember it with delight for the rest of your life.

Thank you Alexandra!