AMAYA CERDEIRINA owns Penfriend, London's fountain pen specialist.
Amaya, sales of stationery are said to be booming. Have pens enjoyed a revival too?

Demand has been growing for several years as more people discover or re-discover the pleasure of writing with real ink. The pleasure comes in different ways: some people like the tactile qualities of a pen and the satisfaction of putting ink on paper with a nib. For others, it's the design and style of a pen that they love. In an age where everyone has near-identical phones, a pen expresses individuality.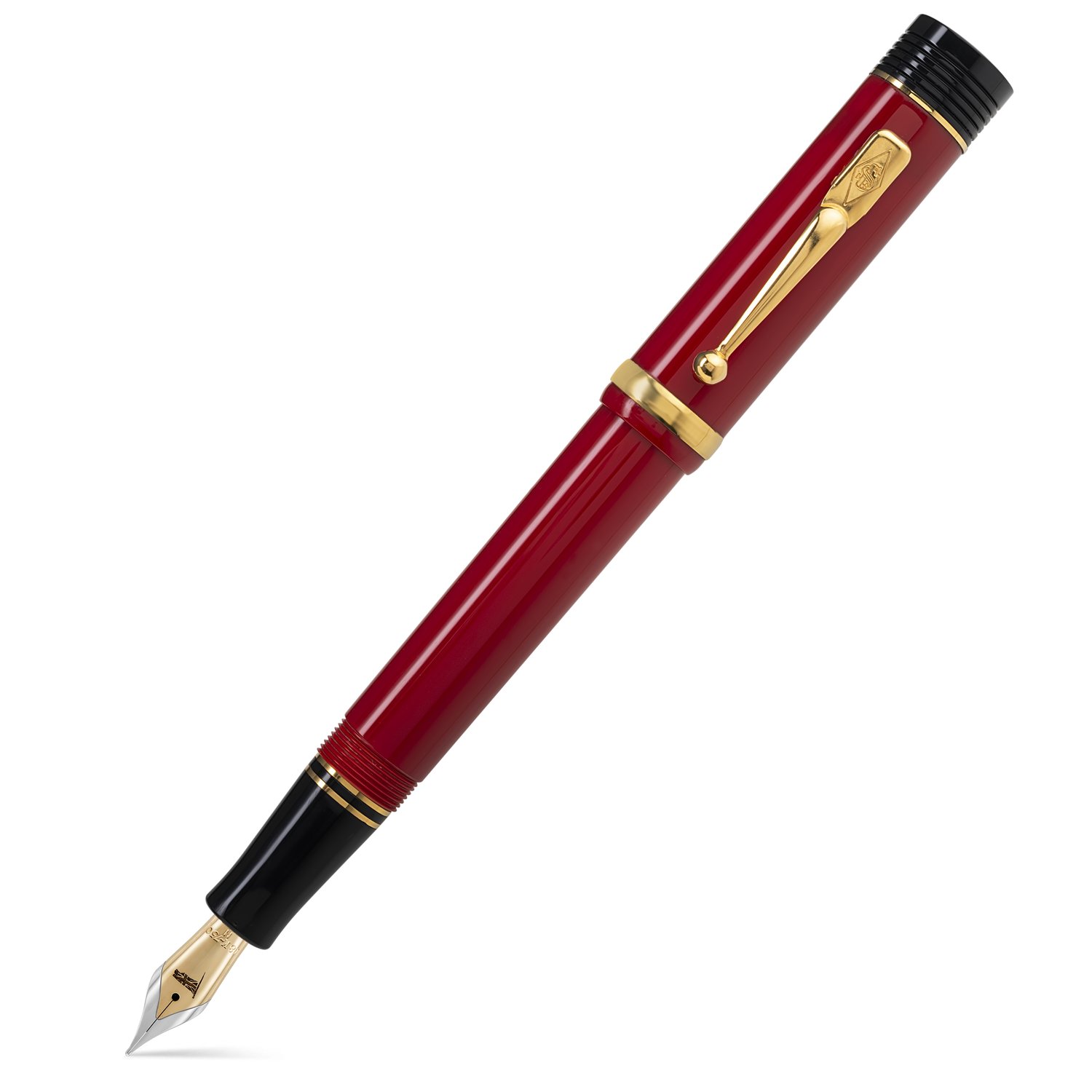 The Conway Stewart 'Churchill' in Modena red

Pelikan Souverän M800

Graf von Faber-Castell 'Perfect Pencil'

Some people say that writing with a fountain pen is 'good' for you. Do you agree?

Yes, I firmly believe that it enriches people's lives on many levels. We all spend too much screen time on phones, ipads and laptops and we know its bad for us – for our concentration, our thought processes and our eyes.
Taking time to write with a pen is a counterbalance. It slows us down. It allows us to think. Truly, it's a kind of therapy. I have several customers who have started writing diaries in longhand to help them cope with the COVID crisis.

In Penfriend's online shop, which brands do you stock?
We work with the top brands we've always worked with: Parker, Waterman, Cross, Dupont, Caran D'ache , Graf von Faber Castell, Visconti, Montegrappa, Pelikan, Yard-O-Led, Sailor, Scribbo, ONOTO . Only Montblanc and Lamy stopped working with us after we closed our shop.

Some of those brands are owned by large luxury groups. Are there any small manufacturers left?

All our British brands – Conway Stewart, Yard-O-Led and ONOTO – are small. Their products are extremely elegant and of excellent quality. Scribbo is also a very niche Italian penmaker which produces beautiful pieces in small batches.

Do customers buy for themselves or as a present?

Both. This June we sold lots of pens as graduation presents but our by-appointment service is mainly used by people buying for themselves.

What factors should people consider when buying a new fountain pen?

I would say that for people who take writing seriously the key factor is the nib. But when we are helping a customer choose a pen, we ask them for their preferences on lots of factors, including:
nib size (fine, medium, italic)

nib composition (steel vs gold)

size of the pen (length and girth)

weight

colour

material of the pen (acrylyc vs metal)

trim (gold vs silver)

screw cap vs push cap

filling mechanism (piston vs cartridge)

grip type

vintage vs modern

price
It's a long list and quite often it's easier just to ask customers if they have – or used to have – a pen they really like. If we know what that pen is, it gives us a clue as to what they will like in a new pen.
Schoolchildren of the 60s were brought up with Parkers. Can you still get Parker 51s?
Yes, we always have a good selection of vintage Parker 51s. It's considered 'the best pen ever made'. Many of our customers have been using them on a daily basis since the early 1950s. That's over 70 years! Tell me how many things you can you think of (with the exception of watches) which have that life span these days …
Parker 51 in Custom Cocoa
Parker 75 in Cisele
Are pens more of a male thing than female?

Probably more male. Women have more choice in terms of accessories such as bags, jewellery, make-up… Having said that, I have some female customers who are keen writers and treasure their pens more than any piece of jewellery.
Now that Penfriend no longer has a shop, is there a way for customers to experiment with pens before they buy?
Yes, for the last 3 years we've been offering a by-appointment service. When a customer contacts us, we agree on a time and location that suits them, usually in central London, and we bring whatever stock they want to try. Sometimes they know exactly what they want, but if not, we narrow down the selection by asking them questions beforehand.
It works well. Our customers are particularly happy because they get unlimited attention and a personalised service in a nice setting that is convenient to them, at no extra cost.

Does Penfriend still refurbish and repair pens?

Yes. If customers have a pen they want to repair, we ask them to post it to our PO Box in North London and we collect daily. Once we've received the pen, our technician examines it and we quote a price to the customer which they can accept or reject.


And you also sell accessories like leather pen rolls, ink, blotting paper?

We still do refills and pen accessories. Blotting paper is still a quest in progress since we have not yet found a blotting paper that meets our requirements.




Inks in many colours from Yard-O-Led, Waterman, Parker, Edelstein and others
Single and double pen cases from Caran d'Ache, Graf von faber-Castell, Cross and Pelikan
5-pen zipped case from Sailor



Pens don't seem to be seen as an investment in the way that, say, watches do. Have they historically kept their value?

The collectors market is small and you're right – pens are not an investment asset class like watches. But the best models certainly keep their value and appreciate over time, and even mass market pens like the Parker 51 have appreciated significantly in value over the last 20 years as they become rarer.


It used to be said that "nobody who matters writes with a biro". Do you go along with that?
100%. Fountain pens are unquestionably the most beautiful writing implement, and beauty and power tend to go together. When major treaties are signed between nations, they don't do it with a BIC. On a more everyday level, filling up a fountain pen from an ink bottle has a certain style to it. It has to be done carefully, and slowly, and in a strict order. It's like a Japanese tea ceremony. Nobody has ever looked elegant changing a biro refill!
Gorbachev and Reagan testing out their favourite pens, December 1987


What is your favourite vintage pen?
A Parker Duofold International Pearl and Black which is a copy of the 1930s Duofold. It is very elegant and has a lovely italic nib. I use it daily to write personal notes to our customers.
Parker Duofold in Pearl and Black

And your favourite modern pen?
I cannot make up my mind. I would favour the nibs of Scribbo and Sailor, the craftsmanship of Yard-O-Led, the classicism of ONOTO and Conway Stewart… But I guess one pen I do recommend a lot for both men and women is the Caran D'ache Leman. I think it is a simple but elegant good writer.
Caran D'ache Leman fountain pen
Thank you Amaya!